11/2023 Official music video of the brand new single "Seventh Heaven" (featuring guest singer Doris Albenberger) taken from the upcoming new studio album to be released on January 2024.
05/2023

Filming in the Venetian Hall of Freudenstein Castle (Eppan/Bolzano, Italy) for the new video single
of the upcoming studio album. The video clip for "Seventh Heaven", the title of the song produced together with guest singer Doris Albenberger, is currently in the final stages of production. Some photos of the film shoot…
03/2023 New studio album is now completed. Mix & mastering by Mr. Sascha Paeth (Avantasia, Masters of Ceremony).
02/2023 new merchandising – T-shirt, hoodie, bundle now available under auashop
12/2022 The first, legendary demo tape entitled "Praeludium", released in 1987, has now been released on vinyl in a series for collectors. The record, 33bpm, is available in limited numbered edition from: auashop.com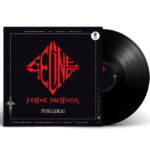 11/2022 After the recording of the main and secondary voices is complete, the next step is editing before the individual tracks are ready for mixing the songs.
10/2022 The recordings for the new studio album will continue with the production of the main tracks of the vocals and the respective backing tracks.
09/2022 In our gallery you can find more pictures (photos by: Damiano Cogo, Melissa Mellistrange Galliazzo, FELINE MELINDA) of the performance at the "VenetoRock Festival 2022" – have a look!
09/2022 FELINE MELINDA live on stage as special guests of the "Veneto Rock Festival 2022" Sunday 11th. The event took place in the 'Arena di Montemerlo/Italy. Here a report (Relics Magazine, in Italian, by Alessandro Masetto, pics by Rose Profeta), as well as photos of the event.
08/2022 The drums of the songs of the new album, as well as for the new single, are ready. In the next weeks the rhythm and lead guitar tracks will be recorded in collaboration with sound engineer Marco Ober from Artifact Studio.
07/2022
Pre-production of the single "Seventh Heaven" (demo version) and final arrangement by the producer.
06/2022 The arrangements for the next album are finished and the band will focus on the drum parts.
05/2022 After the release of the Christmas single "Christmas Time" in December 2021, the band is plans to release a new single with the video clip in collaboration with guest singer Doris Albenberger. The song, composed by Rob Irbiz, entitled "Seventh Heaven" is a rocking, ear-catching song, with lyrics about friendship and love!
04/2022 Now, after composing the stuff for a new album, the band starts arranging the guitar tracks for the new songs.
12/2021 Are you ready for the show? Sunday, December 19th, at 6.45 pm, on YouTube the full concert "Live at the Kultursaal – The concert video" will be streamed live. Over 70 minutes of FELINE MELINDAs best songs throughout the years. A special day with special guests on stage! for those who live in Trentino-South Tyrol/Italy, the local TV Videobolzano33 at the same time will also show the event. Look at it – local television or worldwide premiere on YouTube!
12/2021 Our new single and videoclip "Christmas Time" – out now! Looking for inner peace, closeness and humanity – this is the simple message of "Christmas Time". Produced by Feline Melinda and sung in a duet by Rob and guest singer Doris Albenberger, thoughtful and atmospheric, with a catchy chorus and an awesome, short guitar solo, let you feel the joy for the upcoming Christmas! Available for download or streaming on all leading stores ( ITunes, Apple music, Spotify ).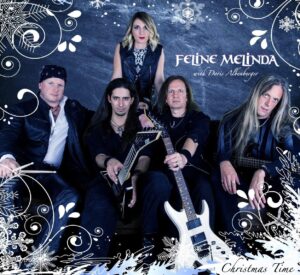 10/2021 Actually Rob, Mattia and Chris are composing new stuff for the next album and the band is producing the demo-versions of the songs in Chris' studio. FELINE MELINDA is planning the new album to be published within next year.
02/2021 New home edition videoclip of "Dance Of Fire And Rain" is now online. Despite the actual situation with closed borders between the countries, the passion for music is unbroken and alive!
12/2020 In order to make the best possibile use of this time of restrictions, the existing video footage of the anniversary concert 2016 is currently beeing edited for a live video. The corresponding live album "Three Decades – Live at the Kultursaal" had already been released before. The production of the video has now reached a good point and will be completed within the current year. The concert evening will be published at the beginning of the new year.
11/2020 Due to a new, second lockdown at present, the activity is almost completely restricted until further notice. There are no music rehearsals; likewise no concerts. So the band is limited to composing and arranging new song material for a new album to be produced next year.
07/2020 Here's the link to our actual videoclip, a "corona-edition" of our song "Mountain Girl" taken from the album "Dance of Fire and Rain"
06/2020 Now, after this long, unexpected worldwide stop due to Covid19 that changed habits and ordinary life of millions and millions of people with a long long lockdown filled with insecurity, feeling of unsafety what future will bring, FELINE MELINDA is going to rehearsal again, arranging new stuff for a new album to release in 2021
12/2019 The brand-new ep cd entitled "Duets" is out now! Four versions of three of the most popular songs from the group's wide repertoire, in a new look: "Forever", "Skydiver", "Dangerzone" in duet versions, with Doris Albenberger's crystal clear and enchanting voice. Furthermore "Skydiver"; in an all-female version, sung and featuring Doris. Last, but not least, the live version of "Phantom of the Opera"; which with Doris as "Cristine" and Rob as "Phantom" touches the hearts of many who have always followed FELINE MELINDA. "Duets" is available as digipack, as well as online in digital format.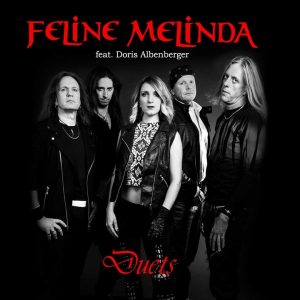 10/2019 Next show in Germany: on Saturday 12 october, FELINE MELINDA is going to rock the stage of the Bang Your Head Revisited 6 (Remmesweiler/Germany)!
08/2019 Together with Marco Ober of Artifact Studio unique duet versions of some of most popular and best-known songs of FELINE MELINDA's repertoire have been recorded with guest singer Doris Albenberger. The EP is now in the final phase of the production and will be released within the current year.
07/2019 Great show on Saturday, 06! FELINE MELINA live at Hammerfest 2019 in Aldein/South Tyrol/Italy! A unique evening on stage in the middle of the forest with an awesome crowd of metal fans!
Click here for the pictures and the videosnippet!
05/2019 "Just Ballads" – our album with all our ballads is online now! Listen and enjoy it on Spotify and lots of other digital download or streaming music stores worldwide: Spotify, iTunes & Apple Music, Google Play Music, Tidal, Youtube, Amazon Music, Deezer, Napster, 7digital, Gracenote, and many more!
03/2019 Croatia-Club-Tour with special guests Imago Imperii/Quiet Protest
01/2019 Live at Kuba in Kaltern/South Tyrol/Italy. A special concert for our friends and fans for a great start into the new year 2019. Special guest Chaos Factory will perform on stage their new album entitled "Horizon".
12/2018 December Club-Tour in Slowenia and Czech Republic with special guests D.N.A. / Metalcraft Blackoutt
09/2018 We are proud to announce that the actual album "Three Decades – Live at the Kultursaal Theatre" is now available worldwide online in more than 150 streaming- and download stores (discovers/download/streaming) – iTunes & Apple Music, Spotify, Google Play Music, Tidal, Youtube, Amazon Music, Deezer, Napster, 7digital, Gracenote, and many more!

05/2018 The live-videoclips of the songs "Phantom Of The Opera" and "Skydiver" of the benefit concert 2017 with guest singer Doris Albenberger are now online!
04/2018 The band is proud to announce the collaboration with the italian music agency "Rock On Agency"/Rome. It will provide for the promotion and the concert booking for FELINE MELINDA!
02/2018 Together with Marco Ober of Artifact Studio special duet versions of some of most popular and best-known songs of FELINE MELINDA's repertoire have been recorded with guest singer Doris Albenberger. The production of these special versions will take place in the next months.
12/2017 On the 22nd of December 2017 we presented to Dr. Michael Mayr, president of the association Peter Pan, the donations collected at our benefit concert! Click here for the picture under various!

10/2017 Our brand new and first live album entitled "Three Decades – Live At The Kultursaal Theatre" is out now. Recorded during our 30th anniversary show last year, it contains various stuff from our ballads to our best known songs like Skydiver, Blue Diamond, Angel Eyes and many more, and some great well known songs we covered exclusively for this unique concert evening. You can get the digipack edition at our shop
10/2017 Great show on Saturday, 21! FELINE MELINA live at Tannerhof! Rob and guest singer Doris Albenberger performing lots of songs taken from the band's repertoire, plus some best known cover versions. A charity evening in favour of the Peter Pan, an association which assists children with cancer and their families! Click here for the pictures!
10/2017 "Rock Night" saturday, 21th october at Tannerhof Girlan/Eppan (BZ) live with Feline Melinda (featuring Doris Albenberger), special guest Highway Star (Deep Purple Tribute).
after show party with DJ Sokke. Beginning at 8.15 pm.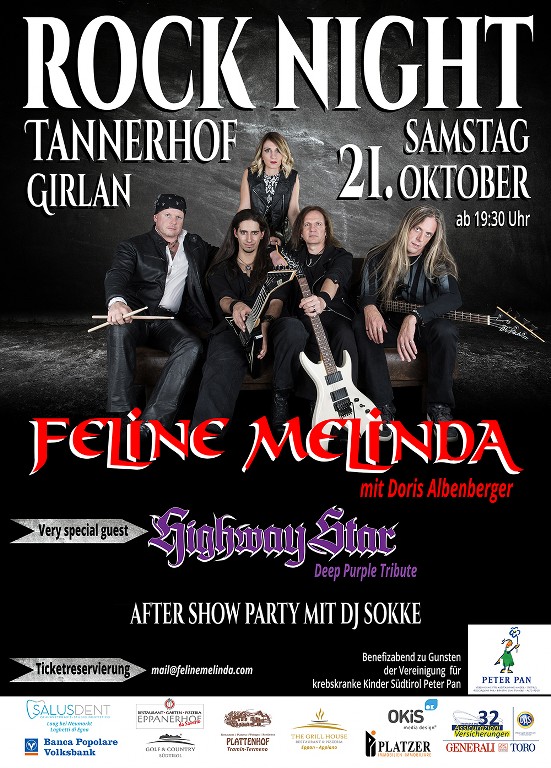 08/2017 Work in progress regarding the production of the forthcoming cd. After the editing sessions, actually we're mixing the tracks of the new live album, which were recorded when we performed for the benefit concert in October last year.
05/2017 After various listenings of the recorded footage and preliminary works, finally we're going to start with the production of a new album. The live recordings were taken by sound engineer Marco Ober (Artifact Studio) last autumn during the charity concert in occasion of our 30th anniversary. Though it will take some time and hours and hours of work during the next months, we know for certain that our first live album is going to be something special! Words of thanks to all those made this concert possible: many sponsors, additional musicians, choir, dancers, photographer, numerous helpers, sound-lights-video-audio engineers and friends and fans, who enjoyed our music and shared this unique evening with us!
04/2017 Now we're back from the mini-tour! First of all we want to thank Continental Concerts and Freedom Call, the bands Infinity (I) and Salamandra (CZ), the live music clubs Circolo Colony (I), Nova Chmelnice e Masters Of Rock Cafè (CZ), Eevi Seanínel Tervaani for excellent photos and last but not least, the great crowd of fans and metalheads who rocked and singed together with us! See the latest pics in our gallery under live! Look also for the live snippets our concert in Zlin!
(Masters Of Rock Café – Intro, Blue Diamond)
(Masters Of Rock Café – Angel Eyes)
(Masters Of Rock Café – Dangerzone, Solo HeadMatt, Skydiver)
03/2017 Nova Chmelnice, Prague: concert is already 'sold out'. All available tickets sold!
03/2017 A great start into 2017 – good live news! We're proud to announce that we're going to support Freedom Call during the following dates of their actual European tour: one date in Italy (Circolo Colony, Brescia – saturday 2017-03-11) and two dates in the Czech Republic (Nova Chmelnice, Prague – Friday 2017.03.17 / Masters of Rock Cafè, Zlin – saturday 2017-03-18)
01/2017 Towards the end of this month we'll start with the supervision and editing of the audio live-tracks recorded during our 30 Years Anniversary concert. It will take some time and the risultat we'll be our first official live record in the band's history…
12/2016
2016 has been such an amazing year. 1986 – 2016 means 30 years of passion and devotion to our music! And a lot of new songs and challenges are coming, so stay tuned! See you in 2017! Stay tuned!
10/22/2016 The band celebrates their 30 years lasting history on stage with a charity event together with twenty artists (dancers, choir and some guest musicians). The receipts of the event will be donated to "Peter Pan", a local association which helps families of children with cancer. Click here for the pictures!
10/2016 Only a few days left until the charity event to celebrate the 30th anniversary of FELINE MELINDA. At the moment the band is busy with rehearsals with the artists who will taking part to the concert. The proceeds go to the association "Peter Pan" for children suffering from cancer.
09/2016
The production of FELINE MELINDAs brand-new ballads-album entitled "Just Ballads" ist now ready. This special cd compilation has been produced for the special charity concert of Oct. 22nd, due to the 30 years anniversary of the band. It's a limited digipack edition and conceived for all lovers of smooth sounds.
07/2016
It was great! Fantastic sound, good audience and simply perfect summer weather: 'Rock Im Ring 2016' – what a success! The band had a lot of fun on stage. Take a look to some impressions and video snippets of our live-act!
07/2016 2016-07-09 Finally the day has come: this weekend we'll be performing at "Rock Im Ring 2016"! Loud and proud and still alive: the felines await you!
06/2016 In the meantime a new heavy-song with bombastic tunes and a catchy chorus has been composed, arranged and is now ready to be played for the first time on stage!
05/2016 Having edited the tracks of the new song, the final mixing is going to be done within the next days.
04/2016 The band started with the recording sessions of a brandnew, previously unreleased acoustic ballad-song. The recordings will be realized in collaboration with 'Artifact' Studio by our trusty sound engineer Marco Ober.
02/2016 It's great having been confirmed for the 2016 edition of 'Rock Im Ring', one of the most renowned and long-lasting rock music events in South Tyrol! We can't hardly wait to climb the stage on 9th of July! www.rockimring.it
12/2015 The band started composing new songs. For the forthcoming album, Mattia 'HeadMatt' Carli has the opportunity to be involved in the songwriting from the beginning. With his skills, he will be able to set new accents and bring in some awesome ideas to the rhythmic and soloist guitar parts.
08/2015 Take a look at the gallery: there you'll find on stage-pics of the "Agglutination Metal Festival". Special thanks go to the metalhead who filmed the beginning of the concert (Crash Intro and Blue Diamond).
06/2015 Live @ "Atzwang Metal Fest" Date: 2015-06-06, Location: Atzwang/Bolzano (Italy)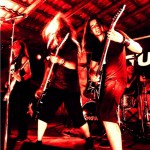 05/2015 It's great to be part of the greatest metal festival in southern Italy, and we had the privilege of writing and producing a version of our song "Forever" especially for the 'Agglutination Metal Festival'. And here's the result – take a look and enjoy the video of the sing-along version with photos of the past festival editions and the lyrics of the official festival song Agglutination (Forever). And if you want to celebrate and sing with Feline Melinda, too, we will be on the stage of this event: August 9th, Chiaromonte (Basilicata)/Italy!
03/2015 Here it is! The official video clip of "Luna (My Love") taken from Feline Melinda's actual album "Dance Of Fire And Rain"
02/2015 Full-length version of the "Making Of Luna (My Love)" videoclip is now online. Shoots filmed behind the scenes during the production of the videoclip of Feline Melinda's song in the vein of the good and unforgotten romantic metal-ballads! "Luna (My Love)" with lyrics turning from sadness into hope, and the superb and sophisticated guitar-solo make this song a little gem of Feline Melinda's actual album "Dance Of Fire And Rain" (label 7Hard Germany)
02/2015 The band is on TV ("Treff" Rai/South Tyrol) with some short cut-outs of the forthcoming videoclip of the metal ballad "Luna" and an interview (in german language and south tyrolean slang)
01/2015 Feline Melinda is going to produce a special version of "Forever" which will be the official song for "Agglutination Metal Festival 2015", the biggest open-air hard and heavy music-event in southern Italy
12/31/2014 New album "Dance Of Fire And Rain" published in September… and a great year 2014 ist almost over now! 2015 – a new year and new challenges full of music! Rob, Chris, Gschnell and HeadMatt wish all the best and thank all supporters, fans and friends of the band!
12/2014 New pics of the "Dance Of Fire And Rain" release party live-gigs @ Baila (Eppan – BZ) and @ Officina Gambrinus (Trento – TN) now online in our gallery!
11/2014 Filmshooting for the new video clip of the song "Luna (My Love)" from the actual album "Dance Of Fire And Rain"


10/2014 TV reportage on the channel SDF (South Tyrol digital televison) in german language and on the channel Video 33 in italian languages
09/2014 Download the title track of our new album "Dance Of Fire And Rain" now on amazon.de for free! Only a few days left! Download charts at amazon.de (standings of September 22nd, 2014):
– Section "Hardrock/Metal": position 1
– Section "Rock": position 4
– Overall: position 11
09/2014 Now online: videoclip of the song "Angel Eyes" from our brand-new album 'Dance Of Fire And Rain'! The video scenes were taken from last years shots of our concert in Kaltern ( BZ – Italy), Seebühne, on August 2013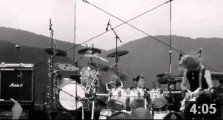 09/2014 Today we proudly announce the title of Feline Melinda's fourth full-length album: "Dance Of Fire And Rain". The production started in December 2011 involving several studios (Finnvox Studios/Finland, Sky Studio/Germany, Artifact Studio/Italy) and finished in spring 2014. The new work is the natural evolution of the musical concept the band started with the 2008 album "Morning Dew": catchy, melodic happy songs with tons of choirs and great arrangements, with a spectrum that goes from speedy songs to romantic metal ballads. Here is the track list of the songs of the new album: Everybody Here / Blue Diamond / Angel Eyes / Tears Of Sebastienne / Luna (My Love) / Dance Of Fire And Rain / Mountain Girl / Alone (Instrumental) / Girlfriend / Angel Eyes (Piano Version) / Dance Of Fire And Rain (Extended Version, Bonus Track). "Dance Of Fire And Rain" will be promoted and distributed worldwide by the German label "7Hard"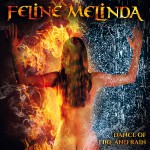 South Tyrol's local press has published the first articles about the new album "Dance Of Fire And Rain". Read online (in German) under Südtirol News and Stol
07/2014 Official worldwide release date of the new Feline Melinda album unveiled:
September 12, 2014!
07/2014 Rehearsing and preparing for the upcoming live gigs (Atzwang Metal Fest 2014, cd release party, ecc.) to promote the new Feline Melinda album
07/2014 The final artwork of the booklet and the front cover of the cd is finished now! Thanks to Manuel Perktold of OKis Media Design (Eppan – BZ) for the great final result!
06/2014 Feline Melinda signed a record deal with a german label for the publication, distribution and promotion of the new album. It will be released in September
05/2014 Due to the fact that the band preferred not to continue the collaboration with our former label 'My Graveyard Productions' from Italy ("Morning Dew" 2008 and "The Felines Await You"- CD collector's re-issue 2010), actually we're looking for a partnership with a label for the publication of our new album.
03/2014 Mr. Mika 'Mastering Of The Universe' Jussila from Finnvox Studios in Helsinki made a brilliant job again: final mastering of our new work (title of the album t.b.a.) completed successfully!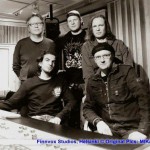 02/2014 The official band's photo shooting session took place some days ago: lots of pics were taken (by Barbara Obkircher, studio okay / Eppan (BZ), therefore next time we have to select the best of them!
01/2014 Finally, the piano ballad for our upcoming album has been mixed by our friend and excellent sound engineer Marco Ober. Great sound, great feelings: piano played by Robbie Weger, song arranged by Robbie Weger and Chris Platzer, vocals and lyrics by Rob Irbiz!